Play the video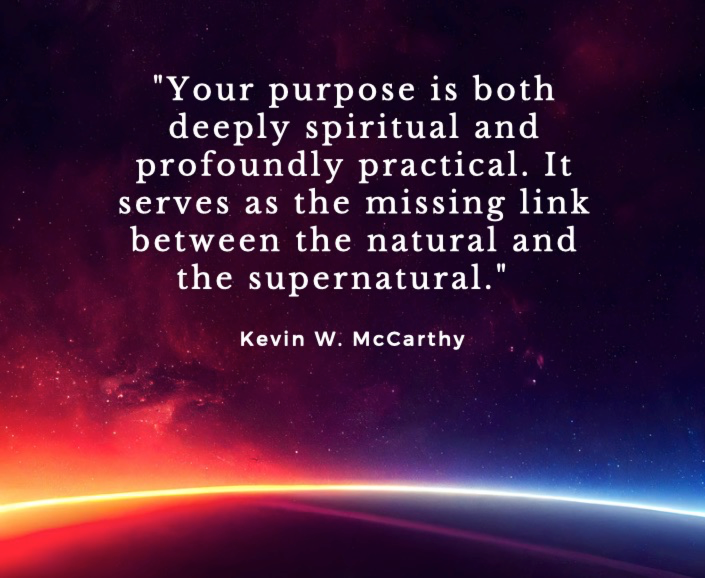 Your purpose is both deeply spiritual and profoundly practical. It serves as the missing link between the natural and the supernatural.
For whatever "IT IS" that continuously exists before, during, and after our lifetime, purpose meaningfully connects us to this "something greater" concept. You may call this eternal, immeasurable presence your higher power, mother earth, force, universe, spirit, designer, architect, intelligence, or [insert your own]. I call this great unknown: God.
Purpose is like finding your lost spiritual iPhone. It connects you to the greatest network service and internet. Purpose enables a clearer, signal strength in your 2-way communication (prayer and meditation) with God. Why would you not take advantage of such sacred wisdom to inform your secular pursuits?
Here's why. I once was invited to a lunchtime book club of c-suite executive assistants. During the prior seven weeks this group of eight read and discussed "The On-Purpose Person." All shared being initially disturbed at the thought of exploring their purpose in life out of fear for confronting lost dreams and facing festering thoughts more "comfortably" ignored than discussed. They felt it was too late for a better life so they focused on their children. However, as they read and talked about being on-purpose, their emotional scars and tumors of turmoil gave way to hope and healing.
Was such an inner disruption and exposure worth it? Those women gave a resounding, "Yes!"
Ask yourself these questions:
Are you better off remaining mired in the malaise of mediocracy?
Are you ready to rise on the merits and purity of promise embedded in your soul for the common good?
Even in the face of discouragement and doubt, why is there even a debate?
If being on-purpose is the way to a more fulfilled, joyful, and peaceful way of life, then how does being on-purpose become a part of your everyday life?
Begin by investing in 2-way communication (meditation or prayer) between God and you. Next, be mindful to consult your 2-word purpose. Before making decisions ask, "Is it off or on-purpose?" Do this for every facet of your life. Finally, allocate time to rest in your purpose so soul and purpose become one. Feel the flood of clean, pure energy pouring light into the darkness within and around you.
When you invest in your purpose, the return on investment is supernatural. 
Be On-Purpose!
Kevin