Lucky you! You received a Gift certificate to ONPURPOSE.me, the ingeniously fast and forever meaning online tool to find your purpose in life–in just 2-words. In less than 10-minutes you'll find your purpose in life. Included with your gift is Poured Wisdom, ten brief emails that will help you be an on-purpose person in creation.
The following instructions guide you through using your Gift Certificate.
Simplest Method: Follow the instructions printed on your gift certificate as show in the blank sample below. If you need further help, scroll below the gift certificate image below for detailed instructions.
Note: The "red boxes" don't appear on your gift certificate. They are conveniently provided to fix your attention on the unique information included on your gift certificate: the gift code and expiration date.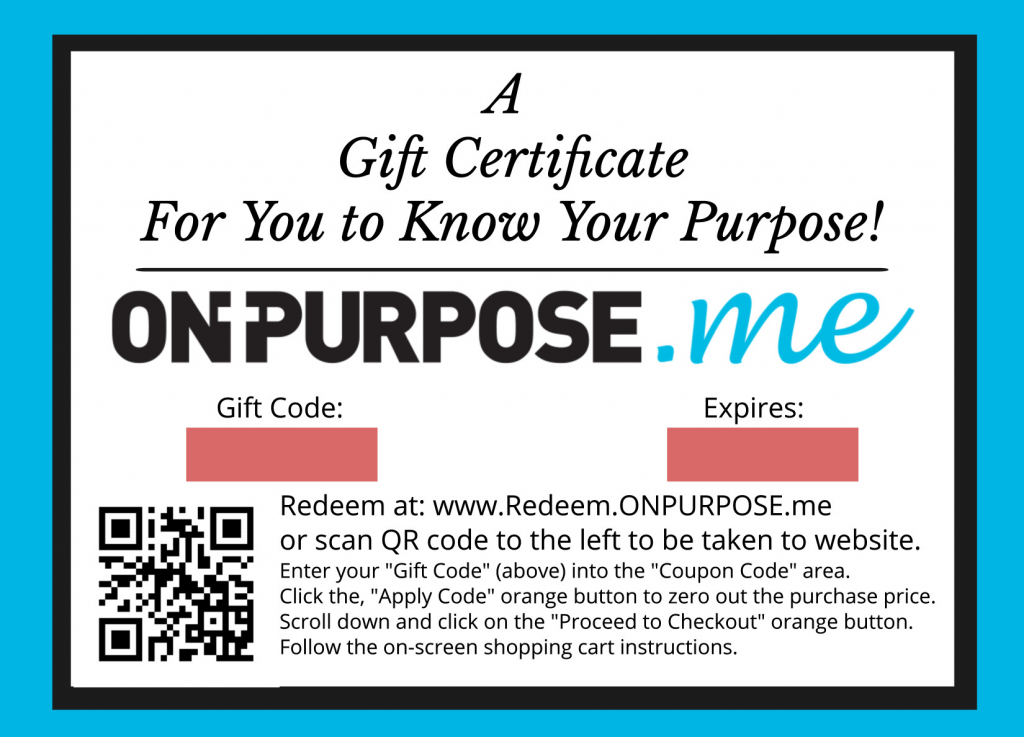 1. Access the ONPURPOSE.me Gift Certificate Redemption Shopping Cart Page
In this section you will learn how to zero out the charge for using ONPURPOSE.me.
Go to the ONPURPOSE.me gift certificate redemption page. Or, use the camera on your smart phone or tablet to scan the QR Code on your gift certificate (found in the image above). You'll be asked to open the redemption page. Click and it will open to the Cart.
On the Cart page (shown below) type your gift code where it reads, "Coupon Code."
Click the

orange "Apply Code" button

. The "Cart Total" will zero out the price for the ONPURPOSE.me App.
Click the

orange "Proceed to Checkout" button

to be taken to the Checkout page.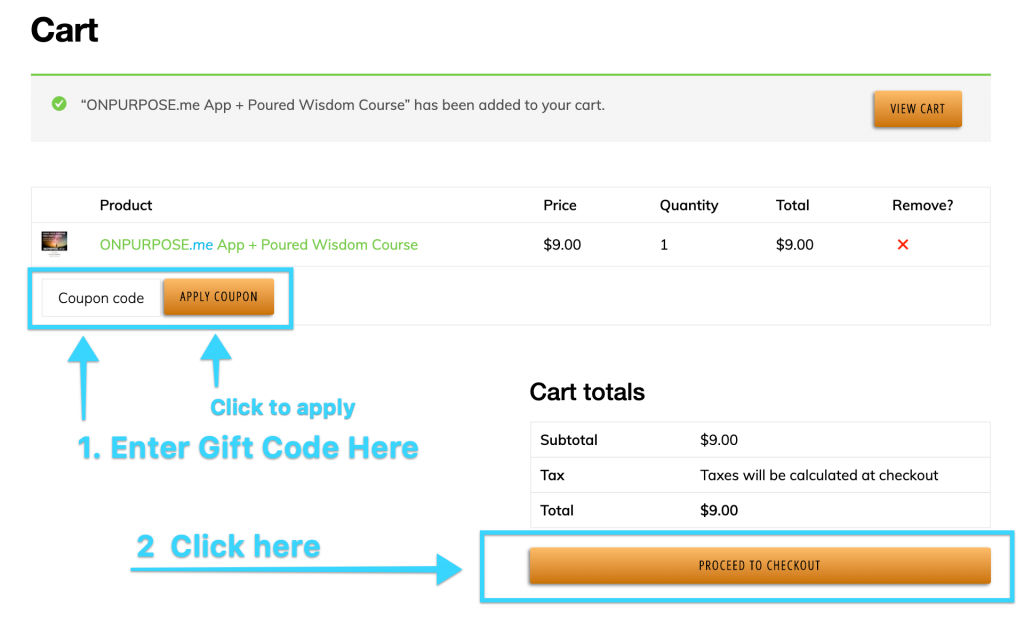 2. Complete the Checkout Page
Follow the on-screen instructions to check out. Your name and email are needed to give us permission to email you:

Confirmation of your "purchase" – arrives immediately
Credentials to login to ONPURPOSE.me website – requires 3 to 5 minutes to set up your credentials. Please be patient.
Poured Wisdom ten-part follow-up email course
Every email has an unsubscribe option.

Add info@on-purpose.com to your contacts to avoid your emails hitting spam filters. Tip: If you don't see your emails, check your spam or junk folders.
From the Credentials (second) email, do the following:

Copy your password
Click the provided link to login

Login Page:

Enter your Username (your validated email address)
Paste your password
Press Login

Welcome Page: You have a choice to go through the Tutorial or Start the App. Use the orange buttons to make your choice.
You Found Your Purpose in Life!
Now that you've used ONPURPOSE.me to discover your purpose in life:
You will receive an email with your 2-word purpose.
You will receive the first of ten Poured Wisdom emails lessons. Each message provides you with personal inspiration and instruction for knowing your purpose in life to living on-purpose. If your emails don't show, check your spam or junk folder and look for the message from info@on-purpose.com.
Any questions, contact us at info@on-purpose.com
Your gift certificate is good for year. Don't delay from discovering your life purpose. The sooner you know your purpose in life, the sooner you will gain an advantage over your old self who was without a crystal clear purpose statement.
Help I'm Lost Trying to Find My Purpose!
If your adventure into Gift Certificate Redemption Land has you flummoxed by one thing or two, then check out our Help Desk for more answers to questions or submit a help ticket. Please forgive us and give us a chance to make it right for you. We're dedicated to helping you know your purpose in life.