A traumatic event happens — job loss, death of a loved one, divorce, diagnosis, financial setback, and such — with stunning impact. Life is swiftly turned upside down and you're dazed and confused. How do you avoid a headlong tumble into the proverbial downward spiral when a TOUGH SHIFT event strikes?
Instinctively, you know There's got to be a better way. Feelings of being out of control, lost, and alone leave you mired in the consequences of inexperience. Do you find yourself thinking I don't even know who to ask for help?
In the beginning of any TOUGH SHIFT event it's chaotic and confusing. We deny and bargain to return to the impossibility of "the way things were." Thrust into the undertow of calamity leaves us dithering between listlessness and thrashing. We're troubled.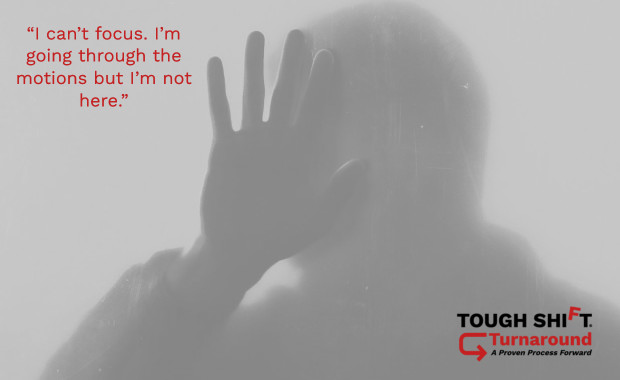 One of the most common remarks after an adverse event is "I can't focus. I'm going through the motions but I'm not here." Assaults to our well-being innately cause a mental, emotional, and spiritual numbness. "Unfocused" may describe the condition, but finding Focus is the wrong prescription.
Order precedes Focus. Creating order, however, implies the need for processing time and guidance, except we want the pain to just go away. Time is what we least want to spend, but it's what we most need to invest. Order emerges from emptying one's soul of the many competing and confusing demands along with the desires of the heart. Decision in times of duress are more difficult due to this vulnerable season of distress.
Simplicity and order are your watchwords. There are no shortcuts from Order to Focus, but there are methods to mitigate the maddening aftermath of misfortune.
Participants in last Friday's TOUGH SHIFT Turnaround workshop applied the 4-stage "On-Purpose Process" to initiate a healthier recovery and speedier restoration in anticipation of appreciative rejuvenation. No more wandering in the wilderness of overwhelm. They have a map with waypoints, 1-word strategies for each stage of their journey, and tools, training, and support of peers and experienced guides. Plus they have their 2-word purpose.
Your 2-word purpose and the follow-up email course offer you an advantage for every step you make. Anchor yourself to the solid foundation of your purpose in the otherwise overwhelming swirl of a TOUGH SHIFT event.
Be On-Purpose!
Kevin