Obstacles keep us from being on-purpose. Traditions are touchstones to remind us what's vital to our well-being. Respect them and you respect yourself.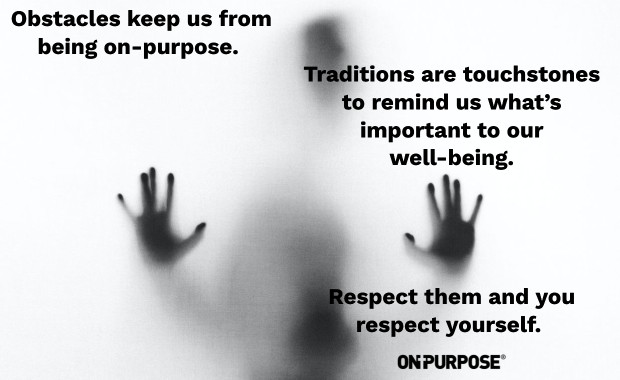 Did you participate in the Halloween festivities last evening with little goblins, ghouls, and assorted super heroes knocking on your door for treats? Or, did you risk tricks and not participate? Perhaps you object to Halloween and refuse to feed a pagan ritual?
To respect a tradition, it helps to know the background. November 1 is All Saints Day also known as All Hallows Day, a Christian feast day for remembering and celebrating the "saints" living and dead in our lives. The day before or the eve of All Hallows Day is modernized to be Halloween.
Before All Saints Day was the Celtic pagan festival of the harvest known as Samhain. Centuries ago, Christians added a spiritual component of "the harvest of souls" to convert pagans to the faith. Today, Halloween is ironically a largely secular and commercial event because of lost tradition.
Why not reflect upon and celebrate your loved ones who died in the past year as well as prior years? Regardless of your faith background or not, embrace this meaningful remembrance of each person's contribution to you becoming who you are today. You can also bury your burdens of unresolved issues by grieving or granting forgiveness. Or at least begin the process today.
Your 2-word purpose puts words to the pure goodness within you. Life experiences, traumas, and dramas enrich or erode the expression of your purpose. You are a saint in creation, a difference-maker, a contributor to the common good. Are you tricking or treating yourself? It's All Saints Day — let the treating begin!
Be On-Purpose!
Kevin