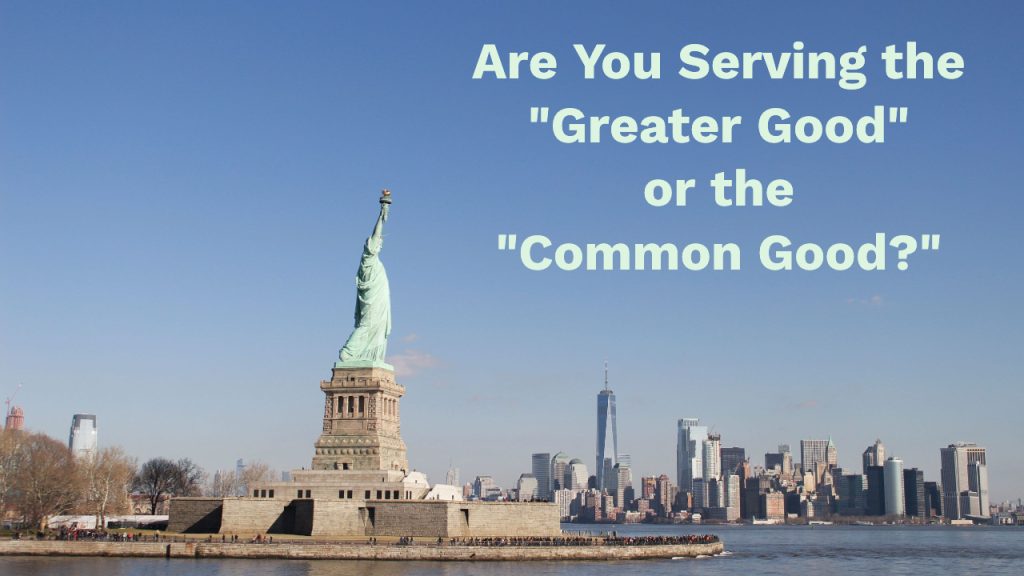 Tyrants speak of "serving the Greater Good." Leaders speak of "serving the Common Good." It's a subtle difference. Many interchange these phrases — please don't!
Do you work for a tyrant or a leader? Are you a tyrant or a leader?
Let's jump into the dialogue from page 156 of Chief Leadership Officer:
Chris asks, "So what is the 'Common Good'?"

The CLO poses, "Chris, do you want your life to make a difference?"

"Sure."

"Then that's a rudimentary version of the Common Good. Think of it as one's inborn desire to serve others. Recall the generic set-up for a 2-word purpose is, 'We (or I) exist to serve by.' Common Good is a person's free will decision to serve others. When two or more people gather together to align their respective purposes, they create a commonwealth to actively pursue weal [well-being] together."
Picking up on page 161 Chris asks,
"What about the Greater Good? Is it the same as the Common Good?"

"Bite your tongue!" The CLO informs, "They're opposites. The Greater Good is for the good of the whole or the majority of people. While that sounds democratic and noble, it places the state or collective interest above individual rights and liberties, as in Communism or Fascism. The question is this: Who decides what is the Greater Good? The moral authority is a person or group of people versus an endowment by the Creator. It presents a slippery slope. Avoid the siren song of the Greater Good."
Without tyranny, liberating isn't necessary. Tyranny by King George III brought about The Declaration of Independence. Tyranny by Hitler killed millions of Jews and other "unwanted" groups in the Holocaust. Tyranny by Mao Zedong lead to an estimated 70 million deaths in China.
Serving the common good is being on-purpose. Start by knowing your 2-word purpose and putting it to work in your life while uplifting the purpose of others.