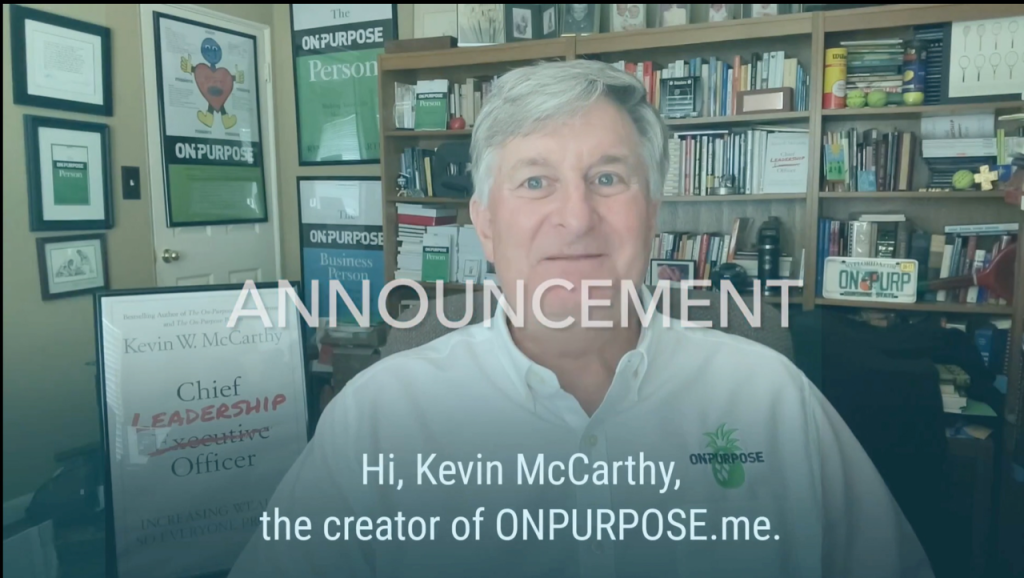 Click the image above to watch the Announcement or click here.
Hi, I'm Kevin McCarthy, the creator of ONPURPOSE.me.

Because you used ONPURPOSE.me to find your 2-word purpose, you're one of 7,500 souls involved in our live beta testing the past 3 years. Your feedback guided us as we learned, tested, corrected, and, frankly, apologized for our errors.

Our extended beta development program ends on Monday, June 16, 2022. The long-posted retail price of $20 will take effect on June 16 for ONPURPOSE.me and all related products and packages. Save today by stocking up on gift certificates. The access codes are good for a year after the date of purchase.

As you've experienced, the ONPURPOSE.me 2-word purpose discovery tool is distinctive for its speed and precision of purpose.

Did you know customers also receive their choice of an instructive email course and unlimited participation in the RefineYourPurpose.com group coaching video calls?

When it comes to meaningfully aligning your inner life and integrating your outer life ONPURPOSE.me remains a superb value. At On-Purpose Partners, we continue our earnest crusade of eradicating meaninglessness by every person knowing their purpose!

If our vision excites you, please tell others about the power of knowing their 2-word purpose. Better yet, join in by become a licensed On-Purpose Presenter to add ONPURPOSE.me into your training or coaching program.

Thank you and Be On-Purpose!